Coopering, office work, and laboratory testing were done in this building
Ici, on s'occupait de tonnellerie, de travaux de bureau et de tests en laboratoire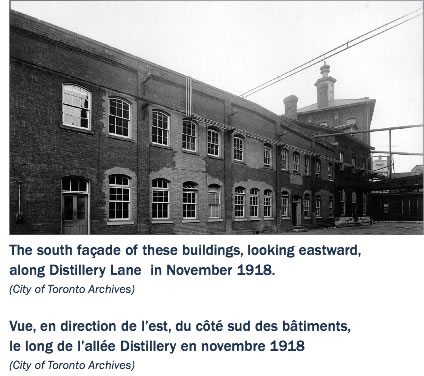 Buildings 25 through 34 (No. 44 & 50 Grist Mill Lane) accommodated many different support functions during the life of Gooderham & Worts Distillery. In the 1860s, company offices were located in the eastern part of the building complex, and coopers made barrels in this general area. Gradually, the offices expanded and the coopers moved off-site. Some time before the Great War of 1914-1918, laboratories began operating from an upper floor. When the distillery closed down in 1990, the offices were still in this building. Artifacts and images representing each of these functions are on display here.

Les Bâtiments 25 à 34 ont rempli de nombreuses fonctions tout au long de l'existence de la distillerie de Gooderham & Worts. Au cours des années 1860, les bureaux étaient situés dans la section est de cet ensemble de bâtiments et les tonneliers fabriquaient les fûts dans cette zone. Peu à peu, les bureaux s'agrandirent et les tonneliers déménagèrent en dehors du site. Un peu avant la Première Guerre mondiale, les laboratoires commencèrent à s'installer à l'étage supérieur. Lorsque la distillerie ferma ses portes en 1990, les bureaux se trouvaient encore dans ces bâtiments. Plusieurs objets et images, en montre ici, témoignent de chacune des nombreuses fonctions de ces bâtiments.