Support services for pipes and pumps on display in this building
Service d'entretien et d'usinage des conduits et des pompes
présentés dans ce bâtiment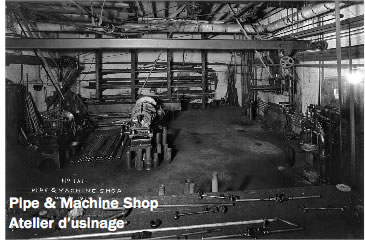 Pipes and pumps, like the ones on display in this area, required skill, care, and ingenuity to keep in good working order. For many years, pipe-fitters, plumbers, and machinists operated out of a Pipe and Machine Shop located in Building 9 (No. 14 Distillery Lane), on the other side of this wall. The 1918 photographs shows what the building looked like, outside and, especially, inside.
Around 1940, when Building 9 was transformed into a molasses tank building (to keep the molasses used to make rum warm and running during winter), Building 8 (No. 18 Distillery Lane), just east of Building 9, took on the main maintenance role. By the time the distillery was closed in 1990, the machine shop contained a mixture of modern and vintage equipment that was still in remarkably good shape. The machines were still driven by line shafting and belting (like that shown in the 1918 photograph. And some of the machines can now be seen elsewhere on site.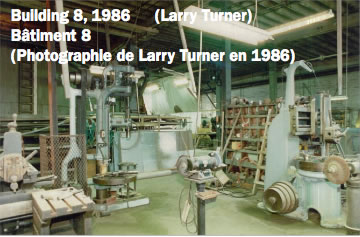 Les conduits et les pompes, comme ceux exposés dans cette zone, devaient rester en bon état de fonctionnement et pour cela il fallait des connaissances, du savoir faire, des soins et de l'ingéniosité. Pendant de nombreuses années, les tuyauteurs, les plombiers et les machinistes ont travaillé dans l'atelier d'usinage du Bâtiment 9 derrière ce mur. Les photographies de 1918 montrent bien l'extérieur et surtout l'intérieur de ce bâtiment.
Vers 1940, le Bâtiment 9 fut transformé et un énorme réservoir à mélasse y fut construit – pour conserver la mélasse chaude et liquide en hiver car elle était nécessaire à la fabrication du rhum. C'est le Bâtiment 8, situé juste à l'est du Bâtiment 9, qui prit la relève. Lorsque la distillerie ferma ses portes en 1990, l'atelier d'usinage contenait beaucoup d'outils et d'équipements anciens et modernes en excellent état. Les machines étaient toujours mues au moyen de courroies et d'arbres de transmission – comme on peut le constater dans la photographie de 1918. Certaines de ces machines sont en montre dans différents endroits de la distillerie.