Bottling and canning were done in this building
La mise en bouteille et en boîte métallique s'effectuait dans ce bâtiment
Initially, whisky was sold by the barrel. Beginning in the mid-1880s, however, distillers were authorized to bottle their own products.
Gooderham & Worts soon opened a Bottling Room on the top floor of Buildings 58 and 59 (No. 8 Case Goods Lane). Aged and blended spirits were piped to the bottling room where bottles were washed, filled, corked (later capped), labeled, packed and stored until sold. No equipment survives from this period. But early bottles display labels featuring gold medals won by G&W in Paris (1878) and Antwerp (1885). By the 1930s, women were working on bottling lines in various distilleries, including Gooderham & Worts. The tasks were boring and repetitive, but required close attention and dexterity.
Around the same time, Gooderham & Worts introduced canning lines, primarily to can the Hot-Shot antifreeze that became its top industrial-alcohol product. As automobiles became more popular, distributors moved from steel drums to individual, one-quart and one-gallon cans. Canning appears to have been a male domain, perhaps because it involved heavy machinery, was used in manly motor cars and could be messy.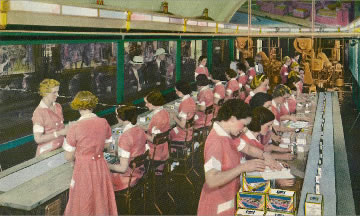 Au tout début, le whisky était vendu en fût. C'est vers le milieu des années 1880 que les distillateurs reçurent l'autorisation de mettre en bouteille leurs propres produits.

Bientôt, Gooderham & Worts installa une salle pour la mise en bouteille (Bottling Room) au dernier étage des Bâtiments 58 et 59 (No. 8 Case Goods Lane). Les alcools vieillis et ceux mélangés arrivaient par des conduits dans cette salle où on lavait, remplissait et fermait d'un bouchon (et plus tard d'une capsule) les bouteilles qui étaient ensuite étiquetées, mises en boîte et entreposées jusqu'à la vente. Aucun équipement ni outillage de cette époque ne nous est parvenu. Cependant sur les étiquettes d'anciennes bouteilles figuraient les médailles d'or gagnées par Gooderham & Worts à Paris en 1878 et à Anvers en 1885. Dans les années 1930, les femmes travaillaient aux opérations de mise en bouteille dans de nombreuses distilleries dont Gooderham & Worts. Les tâches étaient répétitives et ennuyeuses, mais exigeaient de l'attention et de la dextérité.
Vers cette époque aussi, la compagnie installa une chaîne pour remplir les boîtes de métal, surtout pour son antigel Hot-Shot qui devint son plus important produit à alcool industriel. Comme les voitures devenaient de plus en plus populaires, les distributeurs délaissèrent les fûts d'acier en faveur de petits contenants plus maniables d'un quart de gallon ou d'un gallon. Leur remplissage semble avoir été le domaine des hommes, peut-être parce que cela exigeait l'utilisation d'équipement lourd, que la voiture était une affaire d'homme et que c'était salissant.