Aging was done in this building
Vieillissement
In the early days, whisky was consumed almost immediately. Before long, distillers discovered that aging the alcohol improved its flavour… and increased its price. In the mid-1880s, the Canadian government passed a regulation requiring whisky to be aged at least two years. Later, this was increased to three years. Many great whiskies are aged much longer.
At first, whisky was stored only in barrels and this remained the preferred method for imparting flavour. Tanks became way-stations for alcohol storage when special-purpose warehouses were built – tank houses and rack (barrel) houses. After the arrival of tank houses in the 1880s, whisky could be stored en masse, then blended with distilled water to reduce the alcohol level to palatable levels, and then siphoned-off into individual barrels for maturing.
Handling heavy barrels was back-breaking work (a 180 litre barrel weighs about 250 kg). In the early days, barrels were lifted to upper floors by block-and-tackle and mechanical barrel-hoists. Later, elevators and electric barrel hoists reduced the effort required. Other tasks included turning the barrels in the racks, loading carts and moving them around the site.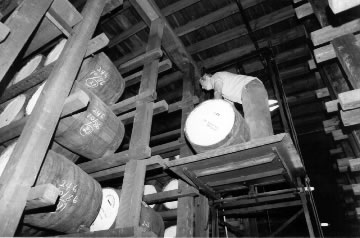 Autrefois, le whisky se consommait presque aussitôt fabriqué. Mais les distillateurs découvrirent rapidement que vieillir l'alcool en améliorait les arômes et, bien sûr, en augmentait le prix. Au milieu des années 1880, un nouveau règlement du gouvernement canadien obligea les compagnies à vieillir le whisky pendant au moins deux ans. Puis, trois ans. De nombreux grands whiskys sont vieillis bien plus longtemps.
Le whisky fut d'abord entreposé uniquement dans des fûts, méthode qui resta la méthode préférée pour transmettre les arômes. Les réservoirs devinrent ensuite la façon standard d'entreposer l'alcool avec la construction d'entrepôts spéciaux (à réservoirs, à étagères pour fûts). Grâce à l'arrivée de ces réservoirs dans les années 1880, de grandes quantités de whisky pouvaient être entreposées puis diluées avec de l'eau distillée pour réduire le degré d'alcool à des niveaux agréables au goût, et ensuite siphonnées dans des fûts individuels prêts pour l'étape de la maturation.

Manipuler de lourds tonneaux détruisait les dos des ouvriers (un fût de 180 litre pèse environ 250 kg). Au début, les fûts étaient montés aux étages supérieurs au moyen de palans à moufle et de monte-fûts mécaniques. Par la suite, l'arrivée des monte-charges et des monte-fûts électriques diminua les efforts physiques à fournir. Il fallait aussi tourner régulièrement les fûts placés horizontalement sur les étagères, charger les chariots et déplacer les fûts dans toute la distillerie.