Fermenting was done in this building
Dans ce bâtiment, on effectuait la fermentation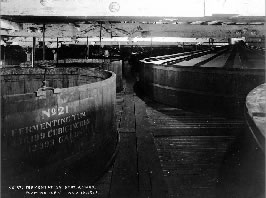 By the simple addition of yeast, fermenting transforms a sugary liquid called "mash" or "wort" into a mildly alcoholic liquid called "beer."
Initially, the wort was produced in four huge wooden "mashing tuns" on the second floor of the Stone Distillery and then pumped into even larger wooden "fermenting tuns" on the floor of the one-storey Fermenting Cellar. Yeast was added to each seven-foot tall tub, setting the wort a-bubbling and fermenting for about four days until its alcoholic content reached the desired level. Workers monitored the process from catwalks overlooking the vats.
Early in the twentieth century, wooden vats were replaced by even larger cooper fermenting tuns that stood 16-feet tall on circular bases. These were fed by newer "mash cookers" on the ground floor of the Stone Distillery and were monitored from catwalks that can still be seen in Building 6 (No. 28 Distillery Lane).

Le simple ajout de levure au moût, liquide sucré, le transforme en un liquide légèrement alcoolisé appelé « bière ».
Le moût se formait d'abord dans les quatre grosses cuves de brassage en bois situées au deuxième étage du bâtiment Stone Distillery. Puis il était pompé dans les cuves de fermentation en bois encore plus grandes, situées dans la cave de fermentation (Fermenting Cellar), bâtiment d'un seul étage. L'ajout de levure dans chaque cuve de sept pieds de hauteur faisait bouillonner et fermenter le moût pendant environ quatre jours, jusqu'à ce que l'alcool atteigne le degré souhaité. Les ouvriers surveillaient le processus depuis les passerelles supérieures.
Au début du XXe siècle, les cuves de bois furent remplacées par de plus grandes cuves de fermentation en cuivre de 16 pieds de hauteur, posées sur des bases circulaires. Les cuves étaient alors alimentées par de nouveaux cuiseurs installés au rez-de-chaussée du bâtiment Stone Distillery et leur surveillance s'effectuait aussi depuis les passerelles supérieures que l'on peut encore voir dans le Bâtiment 6 (No. 28 Distillery Lane).