Mashing was done in this building
C'est dans ce bâtiment qu'on brassait les grains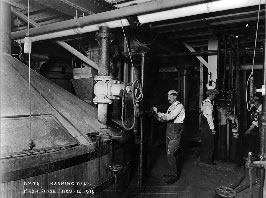 Alcohol can be made from many substances … grapes … potatoes …molasses … corn… and so on. In the case of soft-skinned fruit like grapes, the fruit simply has to be crushed to release the sugary liquid that can be fermented directly into low-yield alcohol. In the case of grain-based alcohols, like whisky, the starchy grain has to be broken down into a sugary liquid that can then be fermented. This process is called mashing.
Mashing occurred on the first two floors of the Stone Distillery. Initially, huge copper-lined wooden vats (or "mash tuns") stood on the second floor, with machinery to drive the mixing racks located on the ground floor. When technology changed in the twentieth century, the vats were replaced by "mash cookers" that stood on the first floor.
Mashing mixed ground grain from the Mill with malt from the Maltings and heated water from the Lake (later from City water pipes). In a matter of hours, the malt worked its magic on the meal to create a sugary liquid called "wort" or "mash." This liquid was then pumped to the Fermenting Cellar where the next process occurred.
On peut fabriquer de l'alcool à partir de nombreuses substances comme le raisin, les pommes de terre, la molasse, le maïs, etc. Dans le cas de fruits à peau molle comme le raisin, il suffit de les écraser pour en extraire un liquide sucré qui peut fermenter directement en un alcool de faible rendement. Dans le cas de grains pour produire des alcools comme le whisky, les grains riches en féculent doivent être d'abord broyés pour être transformés en un liquide sucré capable ensuite fermenter. C'est le procédé du brassage (mashing).
Le brassage se déroulait dans les deux premiers étages du bâtiment Stone Distillery. Au début, les énormes cuves de bois à l'intérieur recouvert de cuivre étaient situées au deuxième étage et les machines qui en actionnaient les pales mélangeuses se trouvaient au rez-de-chaussée. À la suite des changements technologiques du XXe siècle, ces cuves furent remplacées par des cuiseurs installés au rez-de-chaussée.
Le brassage mélangeait les grains moulus provenant du moulin avec le malt provenant de la malterie (Maltings) et avec l'eau chauffée provenant du lac (plus tard l'eau provenant du réseau de la ville). En quelques heures et comme par magie, le malt transformait le mélange en un liquide sucré, le moût (wort ou mash). Une pompe évacuait ensuite ce liquide dans la cave à fermenter (Fermenting Cellar). Le moût était alors prêt pour l'étape suivante.