Malting was done in this building
Ici avait lieu le maltage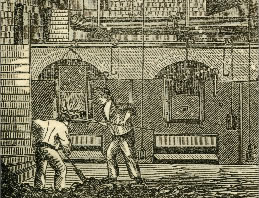 Malt was the magic ingredient Victorian distillers used to convert starchy grain into a sugary liquid that could be fermented and distilled into whisky.
Initially, the company bought small amounts of malt from local brewers and distillers. After the Stone Distillery opened in 1861, Gooderham & Worts' production capacity increased from 360,000 to 9,000,000 litres. It was time to build a major malting operation on site.
Around 1864, the beautiful, red-brick Maltings opened. Barley was delivered to the Malt House where it was watered and sprouted on low-ceilinged malt floors. The sprouted "green malt" was transferred to the Kiln Building where it was heated and transformed into real malt.
Gooderham & Worts were so proud of their new status as "maltsters" that they added the title to their 1860s letterhead, along with "distillers" and "millers." Long after ceasing to make malt, they also retained a decorative cupola, or "kiln pagoda," symbolic of whisky-making.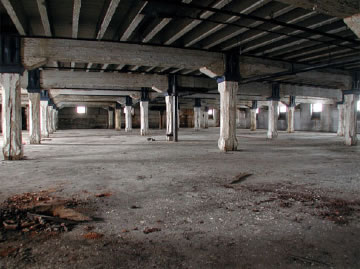 Le malt est l'ingrédient magique dont les distillateurs de l'époque victorienne se servaient pour transformer les grains riches en féculent en
un liquide sucré fermentable puis distillable en whisky.
À ses débuts, Gooderham & Worts achetait du malt en petites quantités auprès des brasseurs et distillateurs locaux. Mais, une fois le bâtiment Stone Distillery construit en 1861, la capacité de production de la compagnie passa de 360 000 à
9 000 000 litres. Ce fut alors le moment de construire une importante installation de maltage sur place.
Vers 1864, le superbe bâtiment de briques rouges était prêt pour le maltage. On recevait les livraisons d'orge à la malterie (Malt House) où l'orge était arrosé et mis à germer sur des aires basses de plafond. L'orge germant ou « malt vert » était ensuite transporté dans le four ou touraille (Kiln Building), où il était chauffé et séché en se transformant en véritable malt, prêt à être utilisé.
La compagnie fut si contente de son nouveau statut de « malteur » qu'elle l'ajouta, dans les années 1860, à l'en-tête de son papier à lettres, à côté de distillateur et de minotier. Bien après avoir cessé les opérations de maltage, Gooderham & Worts gardait encore la coupole décorative, la « pagode du four », symbole de la fabrication du whisky.