Milling

Milling was the first business. For five years, Gooderham & Worts' windmill ground flour and lesser grades of meal. In 1837, William Gooderham, like many Victorian millers, decided to transform a worthless waste product – middlings – into a valuable consumable – whisky. The first stage in making whisky is grinding grain (mostly corn in the heyday of G&W) to expose the starchy kernels.
Milling technology changed dramatically between the 1830s, when G&W relied entirely on traditional stone milling, and the mid-1880s, when the company added roller milling. Roller milling revolutionized Victorian milling. Employing pairs of steel rolls to crush grain, roller mills ran faster, ground finer, provided more control, and employed fewer workers.
When the Stone Distillery was opened in 1861, the mill was located at the east end of the structure. Grain was dumped into underground bins where it was weighed and then lifted by "bucket elevators" to the top floor. Mill-driving machinery occupied the ground floor. Grain was actually ground on the second, milling floor. Upper floors were used for cleaning, storing, and distributing the grain.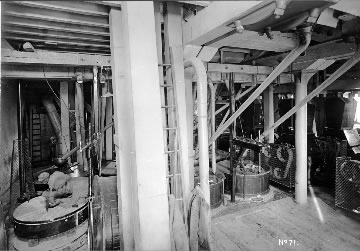 La compagnie commença par moudre du grain. Pendant cinq ans, le moulin à vent de Gooderham & Worts fonctionna pour produire de la farine fine ou de catégorie inférieure. En 1837, William Gooderham, comme de nombreux minotiers victoriens, décida de transformer un résidu sans valeur – les middlings – en un produit de consommation de grande valeur : le whisky. La première étape de la fabrication du whisky consiste à broyer des grains, surtout du maïs à l'apogée de Gooderham & Worts, pour exposer la partie des grains riche en féculent.
Les techniques pour moudre le grain ont changé énormément depuis les années 1830 – lorsque Gooderham & Worts utilisait uniquement des meules de pierre à moudre traditionnelles – jusqu'au milieu des années 1880 –, lorsque la compagnie introduisit les cylindres à moudre qui révolutionnèrent les moulins victoriens. En effet, l'utilisation de deux rouleaux lisses d'acier pour broyer les grains permit aux moulins de fonctionner plus rapidement, de moudre plus finement, de mieux contrôler les différentes opérations et de nécessiter moins d'ouvriers.

En 1861, lorsque fut ouvert le bâtiment de pierre Stone Distillery, la partie moulin était alors située du côté est du bâtiment. Le grain était déversé dans des cuves souterraines d'où, une fois pesé, il était monté jusqu'au dernier étage dans les godets des élévateurs. Les machines qui assuraient le fonctionnement du moulin se trouvaient au rez-de-chaussée, alors que le moulage du grain s'effectuait au deuxième étage. Les étages supérieurs étaient réservés au nettoyage, à l'entreposage et à la répartition du grain.