Foil Crimper
Sertisseur de feuille métallique
Arefact 58-1-2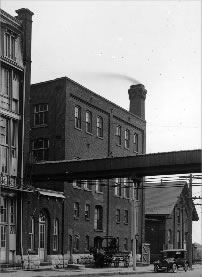 Although today's Cannery was actually devoted to bottling for over fifty years, this is one of the very few specialized heritage artifacts to have survived: a foil crimper used to secure lead foil after the bottle had been corked.
Même si le bâtiment de mise en bouteille et en boîte métallique (Cannery) a servi pendant plus de 50ans,
rares sont les anciens outils spécialisés à nous être parvenus, en voici un : un sertisseur permettant d'assujettir la feuille de plomb une fois le bouchon mis dans le goulot.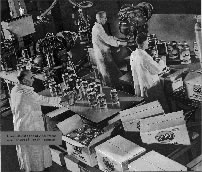 Canning was a loud and noisy process. This photograph from Alocohol in Industry 1938 presents a different view. This is an extremely rare peak into inter-war antifreeze-canning activities at Gooderham & Warts.
La mise en boîte était une opération bruyante et salissante. Cette photographie tirée du livre « Alcool in Industry » (L'alcool dans l'industrie) publié en 1938 présente un point de vue différent. C'est l'une des très rares photographies montrant les opérations de mise en boîte de l'antigel entre les deux guerres chez Gooderham & Worts.