Anti-freeze Cans
Boîtes d'antigel
Arefact 58-001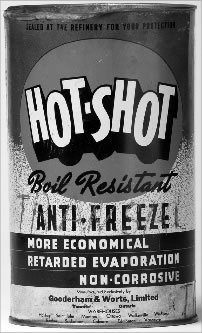 Spurred on by both Prohibition and the Automobile Age, anti-freeze became big business at Gooderham & Worts. By 1938, when G&W published Alcohol in Industry to promote its industrial alcohol operation, anti-freeze probably constituted the single largest use of alcohol in Canada. Hot-Shot, Maple Leaf, Jack Frost, and Bulldog – were all produced and canned upstairs in the Cannery.
En raison des effets de la prohibition et de l'avènement de la voiture automobile, l'antigel devint un produit extrêmement important chez Gooderham & Worts. En 1938, lorsque la compagnie publia
« Alcohol in Industry » (L'alcool dans l'industrie) afin de promouvoir ses opérations en matière d'alcool industriel, l'antigel constituait probablement le plus important produit alcoolisé au Canada. Les produits Hot-Shot, Maple Leaf, Jack Frost et Bulldog étaient tous fabriqués et mis en boîte à l'étage supérieur du bâtiment de mise en boîte métallique (Cannery).