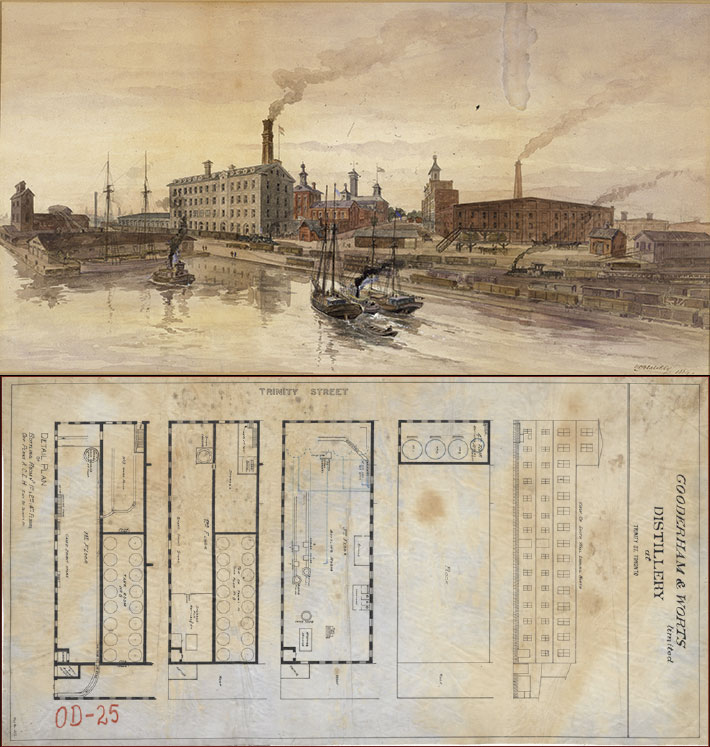 Bottling Building in 1884 and 1924
(Distillery Historic District)
Bâtiment de mise en bouteille en 1884 et en 1924
(Distillery Historic District)
William D. Blatchly painted what is now the Cannery in 1884 when it was only three storeys high, bore a gently sloping roof and overlooked the nearby lake. Neither the Fire Pump House nor the Case Goods Warehouse had yet been built between it and the water.
By 1924, Buildings 58 and 59 at No. 8 Case Goods Lane had been radically changed. Most significantly, the third floor was transformed into a single large bottling room with 14-foot ceilings; the Trinity Street entrance gained importance; and a fourth scale-tank floor was constructed over the western portion of the building. Here alcohol was weighed and sent down for bottling on the third floor.
En 1884, le peintre William D. Blatchly représenta ce qui est de nos jours le bâtiment de mise en bouteille et en boîte métallique (Cannery) alors que ce bâtiment n'avait que trois étages couverts par un toit légèrement pentu, et faisait directement face au lac proche. En effet ni le poste d'incendie (Fire Pump House) ni l'entrepôt de marchandises (Case Goods Warehouse) n'avaient été encore construits au sud, entre ce bâtiment et le bord du lac.
Les Bâtiments 58 et 59 étaient très différents en 1924. Le troisième étage avait été transformé en une seule très grande salle de mise en bouteille d'une hauteur de plafond de 40 pieds; l'entrée sur la rue Trinity avait pris de l'ampleur et un quatrième étage avait été ajouté sur la partie ouest des bâtiments pour y placer des balances à réservoir. C'est là que l'on pesait l'alcool avant de le faire descendre pour la mise en bouteille au troisième étage.