Malt House Columns
Colonnes de la malterie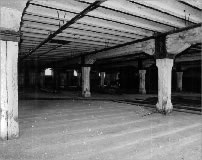 Sprouting barley – the first stage in making malt – required light, water, and occasional raking … but not high ceilings. The short columns reconstructed here from the original 1860s Malt House next door, demonstrate how very low the ceilings in that building were. When sprouted, the "green malt" was transferred to the Kiln Building where you are standing to be heated and transformed into the final malt essential for making whisky.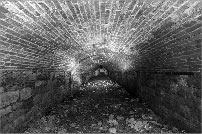 La germination de l'orge, c'est-à-dire la première étape de la fabrication du malt, exigeait de la lumière, de l'eau et un ratissage de temps en temps, mais pas de plafonds hauts. Les colonnes courtes qui ont été refaites ici selon la malterie (Malt House) originale des années 1860, qui se trouve juste à côté, montrent bien comme étaient très bas les plafonds du bâtiment. L'orge germant ou « malt vert » passait ensuite dans le bâtiment du four (Kiln Building), où vous vous trouvez, pour être chauffé et transformé en véritable malt, indispensable pour faire du whisky.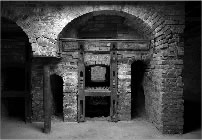 Five limestone and brick barrel vaults stretch from the Kiln Building, 100 feet beneath the Malt House. Hot air rose from this 1880`s brick kiln furnace to the floors above to transform sprouted barley into malt.
Cinq voûtes en berceau faites de calcaire et de briques s'étendent parallèlement sur une longueur de 100 pieds sous la malterie (Malt House) à partir bâtiment du four (Kiln Building). L'air chaud s'élevait du four de briques, qui date de 1880, vers les étages supérieurs pour chauffer l'orge germé et le transformer en malt.