Barrel Racking
Entrepôts à étagères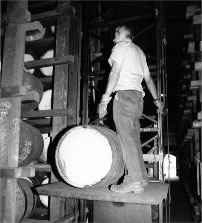 Beginning in the 1890s, barrels of whisky were aged on shelves in specially built "rack houses." Distillery workers developed great skill in handling the heavy barrels (a 40-gallon barrel of whisky weighed about 550 pounds). While aging for two to three years, barrels were laid on their side, periodically rolled-over and tested. Time and the flavour of wooden barrels combined to create the perfect G&W whisky.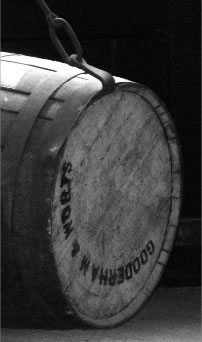 À partir du début des années 1890, on faisait vieillir le whisky dans des tonneaux placés sur les étagères d'entrepôts spéciaux (Rack Houses). Les ouvriers devinrent vite très habiles dans l'art de manipuler les tonneaux (un fût de 40 gallons de whisky pèse environ 550 livres). Les fûts placés horizontalement sur les étagères étaient tournés régulièrement et l'alcool était testé au cours d'un vieillissement de deux à trois ans. Les arômes du bois des fûts, combinés à la durée du vieillissement créaient le parfait whisky Gooderham & Worts.