Flavouring Tanks
Réservoirs d'aromatisation
Arefact 61-2-2/3
Beverage alcohol was transformed by blending, colouring, aging and diluting 100% alcohol to a lesser proof. In these copper tanks, whiskies destined to become blended whisky were combined before being aged to perfection in barrels and clear molasses-based alcohol was transformed into dark rum by adding caramel.
L'alcool propre à la consommation était transformé par mélange, coloration, vieillissement et dilution d'alcool à 100 % en un alcool au pourcentage inférieur. Dans ces cuves de cuivre, on mélangeait certains whiskys avant de les faire vieillir dans des fûts jusqu'à leur perfection, et l'on ajoutait du caramel à de l'alcool clair à base de mélasse pour le transformer en rhum foncé.
Fermenting Cellar Tanks
(Distillery Historic District)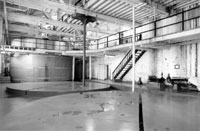 At its peak, the Fermenting Cellar was filled with huge copper tanks. In 1957, Gooderham & Worts stopped making whisky, but continued making rum and other non-grain-based alcohol. As tanks were removed, only empty bases like the ones in this mid-1980s photograph by Larry Turner remained.
Cuves de la cave de fermentation
(Distillery Historic District)
À son apogée, la cave de fermentation (Fermenting Cellar) était remplie d'énormes cuves de cuivre. En 1957, Gooderham & Worts arrêta la production de whisky, mais poursuivit celle de rhum et d'autres alcools non à base de grains. Les cuves une fois retirées, il ne restait que leurs bases, comme celles visibles sur la photographie de Larry Turner prise vers 1985.