High Roller Mills
Moulins verticaux à cylindres
Arefact 3-2-6/7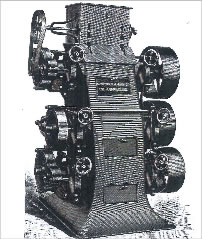 These are two of the ten high-roller mills that once ground grain for whisky at the Stone Distillery. Until the mid-1880s, all grain was ground by millstones. After Gooderham & Worts stopped making whisky in 1957, milling was halted. All but two mills disappeared; they remained in storage for over 50 years.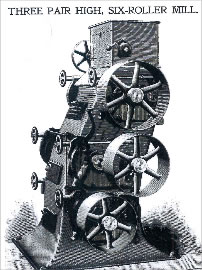 Voici deux des dix moulins verticaux à cylindres qui moulaient autrefois le grain pour fabriquer le whisky dans le bâtiment Stone Distillery. Jusqu'au milieu des années 1880, on moulait tout le grain avec des meules de pierre. Lorsque Gooderham & Worts arrêta de fabriquer du whisky en 1957, elle arrêta aussi de moudre le grain. Les moulins à cylindres ont tous disparu sauf ces deux-là qui sont restés en entreposage pendant plus de 50 ans.
Roller Mill Ad, 1883 (Chris Andreae)
Nordyke & Marmon promoted the new-model "Three Pair High Six-Roller Mill" in its 1883 catalogue as "very strong, rigid and durable, simple in construction and first-class in material, workmanship and finish."
Publicité pour moulins verticaux en 1883
(Chris Andreae)
Le catalogue de 1883 de la compagnie Nordyke & Marmon faisait la promotion de ce nouveau modèle de « moulin vertical, équipé de trois paires de rouleaux à moudre », comme étant « très solide, rigide et résistant, de fabrication simple avec des matériaux, un savoir-faire et une finition de première qualité ».