Barrel Handling
Manutention des tonneaux
This selection of special tools were used by distillery workers to move, tap, and take samples from barrels while their contents were aging, tested and otherwise made perfect for consumption.
Ces outils spéciaux servaient aux ouvriers à déplacer les tonneaux, les mettre en perce et en prélever des échantillons pour procéder à des tests pendant le vieillissement et pour d'autres opérations afin de rendre le contenu des tonneaux parfait pour la consommation.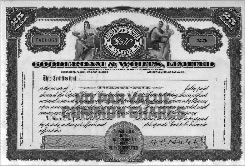 Harry C. Hatch and partners purchased Gooderham & Worts 1923. The stock certificate displayed here probably dates from 1924.
Harry C. Hatch, avec ses partenaires, fit l'acquisition de Gooderham &Worts en 1923. Le certificat d'actions reproduit ici date probablement de 1924.