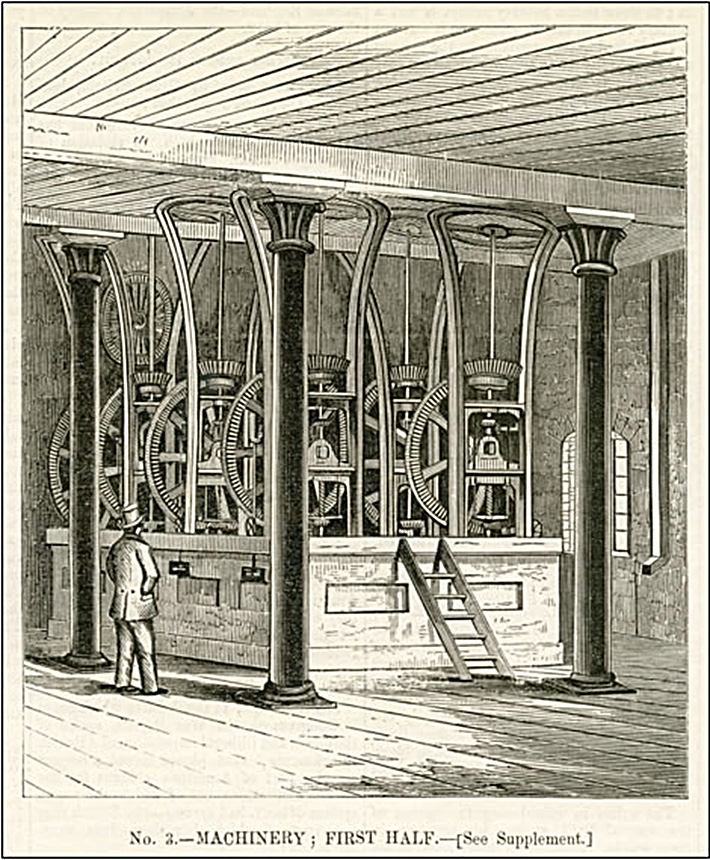 View of Mill Machinery Floor in 1863
(Toronto Public Library)
Vue de l'étage des machines du moulin en 1863
(Toronto Public Library)
When the Stone Distillery opened, the ground floor of the Mill on the other side of this wall contained the massive "stone hurst" needed to drive the millstones on the second floor. Miller Lionel Limmer was in charge of this ultra-modern operation whose "wheels, spurs and pinions, horizontal and vertical shafts all work as smoothly as a family," according to the Canadian Illustrated News that published this engraving.
Dès l'ouverture du bâtiment Stone Distillery, le rez-de-chaussée du moulin – derrière ce mur – comportait un massif bloc de maçonnerie qui, avec son système de roues, assurait le fonctionnement des meules du deuxième étage. Le meunier Lionel Limmer était responsable de ce système ultramoderne dont « les roues, les dents et les pignons, les leviers horizontaux et verticaux fonctionnaient bien ensemble comme une véritable famille » selon l'article publié dans le Canadian Illustrated News qui accompagnait cette gravure.