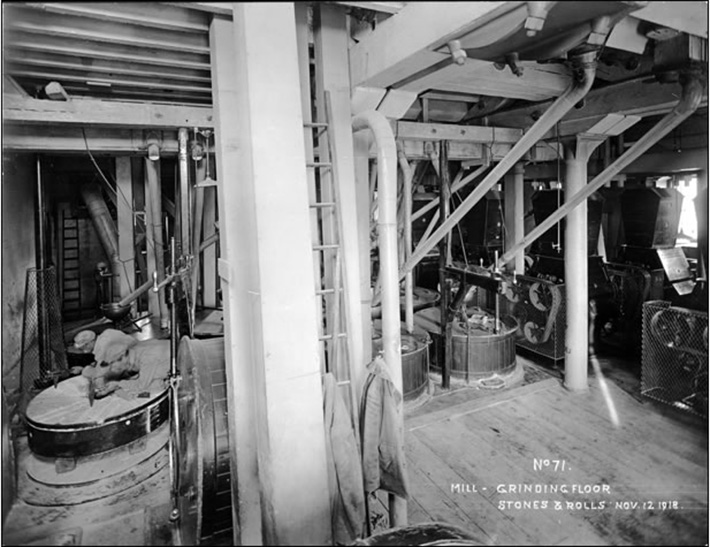 Mill Grinding Floor in 1918
(City of Toronto Archives)
Vue de l'étage du broyage du moulin en 1918
(City of Toronto Archives)
By 1918, the "grinding floor"contained eight pairs of millstones and ten, more modern high-roller mills that used long steel rollers to grind the grain. This view shows some of the roller mills on the right, and millstones fed by angled metal chutes in the centre. On the left, hunched-over workmen "dress" worn stones by re-incising their surfaces with carefully worked-out patterns. The mills fell silent when whisky-production ended in 1957.
En 1918, l'étage du broyage contenait huit paires de meules de pierre et dix moulins verticaux à cylindres plus modernes avec de longs rouleaux d'acier pour moudre le grain. On y voit quelques rouleaux à droite et les meules nourries par des conduits de métal inclinés au centre. À gauche, des hommes penchés sur des meules usées, gravent à nouveau la surface des meules avec soins selon des dessins bien précis. Les meules se sont tues avec l'arrêt de la production de whisky en 1957.