Distilling Columns, 1863
Colonnes de distillation en 1863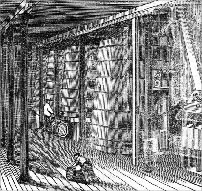 1860s wooden distilling columns were replaced by more elaborate and effective copper columns in the later nineteenth-century. In both cases, the columns rose through several floors on the other side of this wall.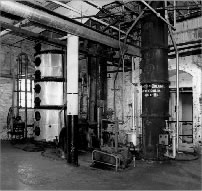 Les colonnes de distillation (ou alambics) en bois des années 1860 furent remplacées à la fin du XIXe siècle par des colonnes en cuivre plus complexes et plus efficaces. Dans les deux cas, les colonnes s'élevaient à travers plusieurs étages derrière ce mur.