Badger Plans & Elevation of Continuous Alcohol Still, 1929
Plans et élévations des alambics à circuit continu de la compagnie Badger en 1929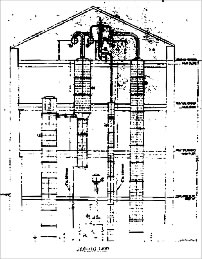 The plans and elevations drawn by Badger of Boston depict the location of the various elements of Gooderham & Worts' distilling apparatus in 1929. The two main and largest components– the beer and the rectifying columns – rose from the ground floor through several storeys. Other components were installed where appropriate. You can still see the beer column and smaller elements in situ, at the west end of the "Stone Distillery" at No. 32 Distillery Lane. The size and complexity of the system is made very clear by the model located near the elevator.
Les plans et les élévations dessinés par la compagnie Badger de Boston indiquent l'emplacement des différentes composantes de l'appareil de distillation de Gooderham & Worts en 1929. Les deux principales et plus grosses unités – la colonne à bière et la colonne de rectification – traversaient plusieurs étages depuis le rez-de-chaussée. Les autres unités étant installées en conséquence. On peut encore voir la colonne à bière et de plus petits éléments sur place, à l'extrémité ouest du Bâtiment 5. La taille et la complexité du système sont bien visibles grâce à la maquette présentée près de l'ascenseur.