Bristol Control Panel
Tableau de commande Bristol
Artefact 60-1-4
This custom-built, Bristol fire-pump controller regulated the operation of the Waukesha pump. The unit could be set to either automatic or manual mode (see switches). When set to auto mode, the pump would be switched on automatically when an emergency occurred. Note the recording chart on the door.
Ce tableau de commande Bristol, fabriqué tout spécialement, commande le système de la pompe d'incendie Waukesha. On pouvait mettre le système sur automatique ou sur manuel (voir les leviers). Lorsque le système était sur le mode automatique, la pompe se mettait automatiquement en marche en cas d'urgence. Voir aussi le rapport affiché sur la porte.
Fire Pump House in mid-1980s
(Distillery Historic District)
Poste d'incendie au milieu des années 1980
(Distillery Historic District)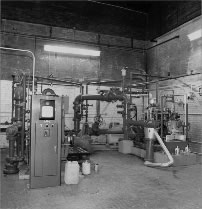 Larry Turner's photograph shows two large red fire pumps, as well as the blue Bristol control panel, in their original location at Building 60, the Fire Pump House.
Grâce à la photographie de Larry Turner, on peut voir les deux grosses pompes d'incendie rouges ainsi que le tableau de commande Bristol bleu sur leur emplacement d'origine dans le poste d'incendie (Fire Pump House) du Bâtiment 60.